Whether you're just starting out playing the Native American flute or you've played it for years, it's not uncommon to reach out for help when you hit creative roadblocks. The Native American flute is an instrument that is forgiving, pleasant, meditative and inspiring.
A benefit of the Native American flute is that it's portable and relatively easy to learn to play given the number of holes–either 5 or 6–and the modern tuning of it. Don't let this instrument fool you, though, just because the scale of the Native American flute is rather simple, it is completely chromatic, like most modern musical instruments.
Just Getting started | The First Breath
Before starting anything, there's usually some feelings of fear and excitement. Together we will work on getting you comfortable with your first Native American flute and developing good habits. Contrary to popular belief, you do not have to know how to read music or really know anything about music theory. In fact, many people who play the Native American flute enjoy the simplistic nature of the instrument and use it as a tool of self-expression.
I work with new players on finger dexterity and overall agility, breath control and techniques and start the process of creating your very own song!
ADVANCING YOUR SKILLS | Continuing The Journey
Something happens after you've been on your flute journey for a while. A creative roadbock or "rut" as we call it. It feels like you're playing the same thing, over and over. Personally, I've been though several of these in my time with the Native American flute. It's natural and usually means that we're on the cusp of a breakthrough. Let me help you!
I will assess where you are in your flute playing and give guidance. We will talk about your goals and some of the things that are struggle points for you and come up with a plan to engage your creative spirit again. Common areas in which I work with students is expanding your ability and efficiency with playing embellishments, actively using those embellishments in "every day" playing, increasing agility and incorporating "other notes" and/or various scales into your music.
"Jonny Lipford was great as a teacher. He listened to what I wanted to learn about and helped me achieve this in a few lessons. He showed me tips and techniques that would have taken me years to figure out and he was fun to work with."

"As a beginner on the Native American flute, after one-month of lessons under Jonny, advanced my playing significantly. He doesn't offer you a cookie-cutter teaching approach, but brings his inner music creativity into the learning process. He not only reenforced the necessary basics, but quickly understood my playing abilities, and built on them with new techniques, song composition (we even wrote a song together), and expanded my own playing style. No matter what your level of playing, if you are looking for an encouraging and experienced flute instruction ... Jonny is the one!"

"Loved working with Jonny - we did a lesson through Skype - next best thing to being there. Jonny listens to what you have to say, gives great feedback and suggestions on techniques to improve your playing and enjoyment of your flute. He's super easy to work with and takes time to explain. Love working with him!"

I offer private lessons in-person in Cedar Rapids, Iowa and online via Skype, Facetime or Facebook video chat. I typically teach during the day on Tuesdays-Thursdays, however, other days and times may be available. Please contact me if you're interested in getting started!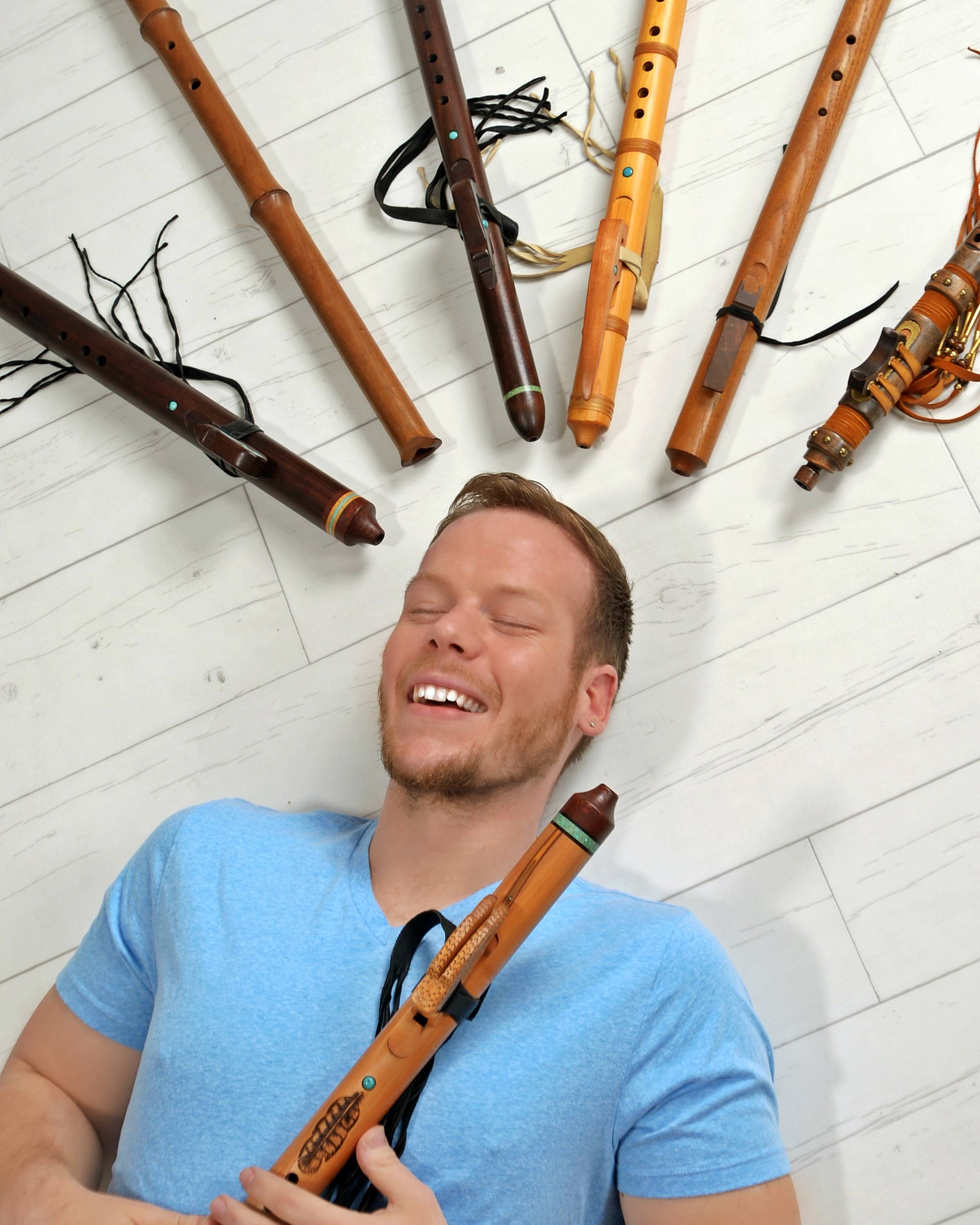 Your instructor - Jonny Lipford
I started my flute journey on Christmas day in the year 2002 after I was gifted a 5-hole bamboo Native American flute tuned to the key of G minor. I didn't know anything about these instruments but I did know that this would change my life in a very positive way. I want you to have that very same feeling, perhaps you already have had that!
Intuitively, I learned very quickly as I mimicked the things that I heard. I practiced every single day and treid to get more efficient with breath control, finger dexterity and improve my overall knowledge.
I started working with others, helping them along their flute journey in 2009 as I was invited to various events to lead workshops. Since then, I've worked with hundreds of individuals–of all ages–either one-on-one, in a workshop setting or over the internet via Skype and Facetime.
Teaching others to play the Native American flute is something that I am very passion about. I love the "lightbulb" moments when a student grasps a concept and runs with it. I would love the opportunity to work with you and help you along your flute journey, no matter if you're just getting started or you've been playing for years. Let's get you through the creative ruts!