The Native Flute Academy is your home of learning the Native American Flute with award-winning Jonny Lipford!

Whether you're just starting out with the Native American flute or you're lacking a foundation in your flute playing, the Beginning Your Journey course was made just for you.
This course is thoughtfully laid out with 40 easy-to-digest video lessons all with accompanying PDFs for you to work with so you won't develop gaps in your flute playing.
Though starting with the basics, by the second module, I'll have you comfortably exploring other scales, playing songs and melodies, using techniques and new tools so you are equipped with not only the ability, but the confidence to freely play your Native American flute.
Once you're enrolled in the course, you'll have forever access and you'll be able to work at your own speed. I built this course with love and intention, providing a flute player a very clear path.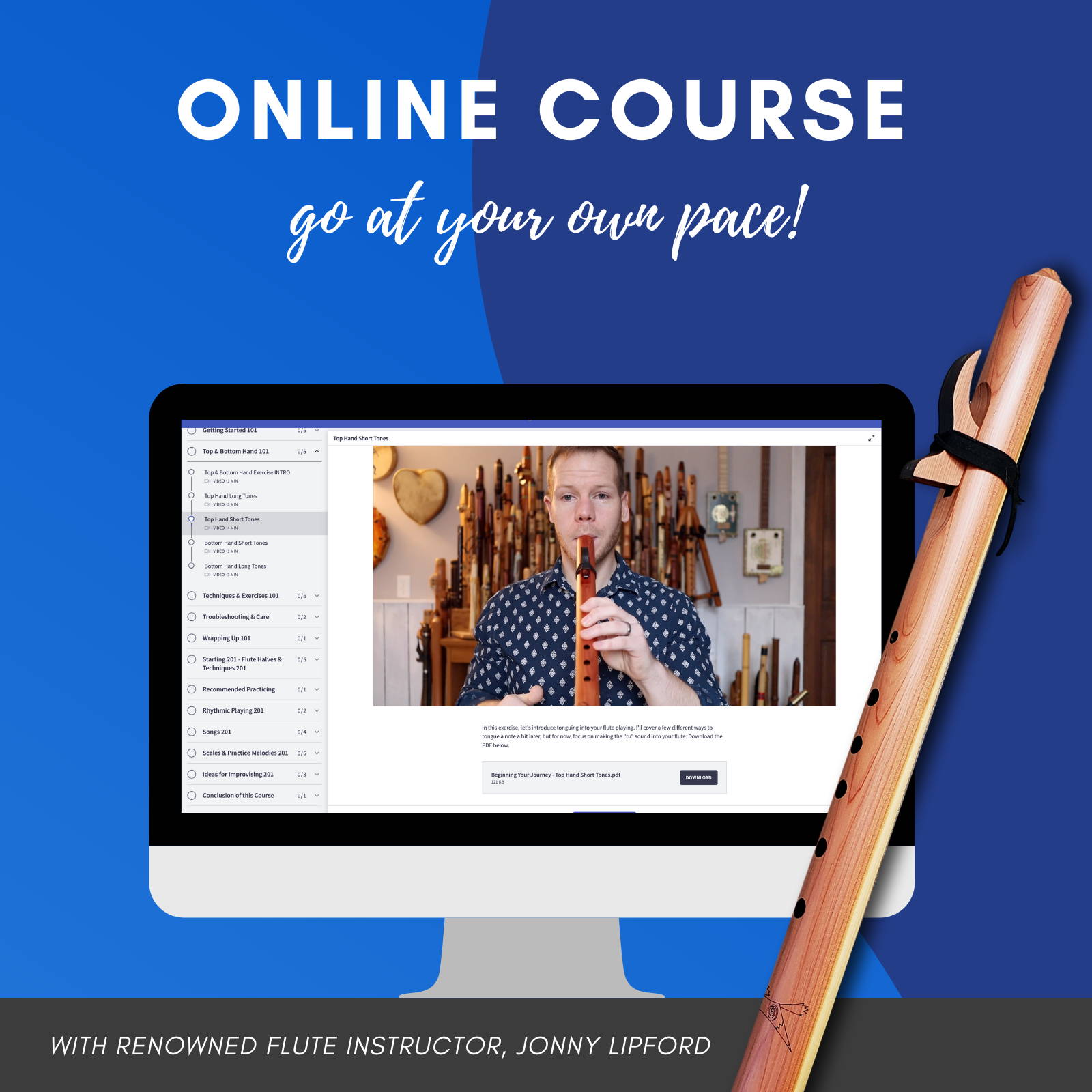 Preview the Beginning Your Journey Course
Nearly 50, easy to read pages of content in
downloadable and printable PDF format.
Over 2.5 hours of content broken down
into 40 individual video lessons.
Benefits of enrolling in this course
Finger dexterity exercises to improve your agility.

Breath work to show you how expressive you can really be.

Techniques to transform your style of playing.

Scales and extra notes to spice up your catalog of note choices.


Techniques to transform your style of playing.
The flute used in this program is made from eastern cedar and tuned to the key of A minor. You will have an option to add this flute on to your program during the enrollment process.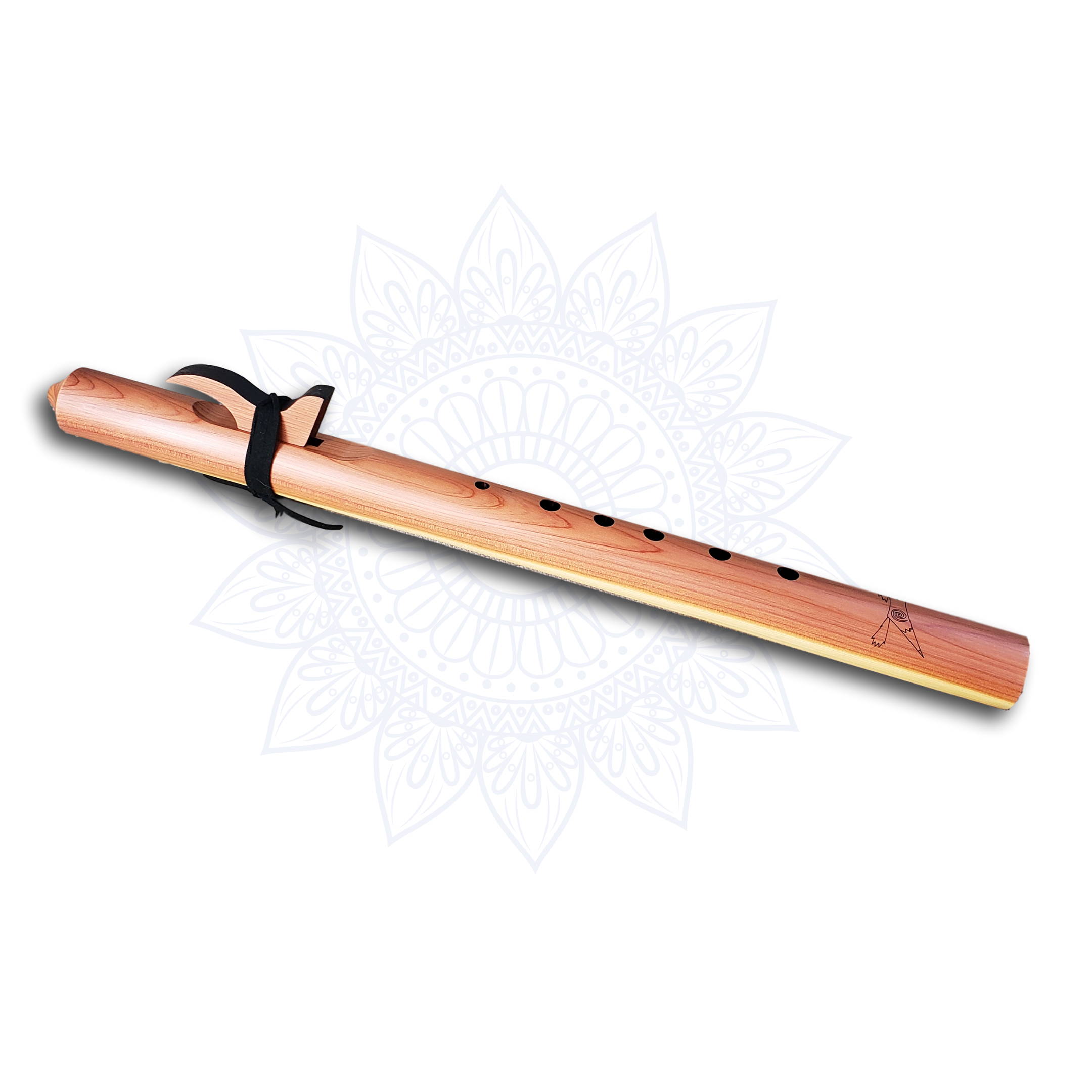 Frequently Asked Questions
I have never played any musical instrument. Can I actually learn to play the Native Flute with zero musical background?
Many have come to this instrument at a point in their lives where it is just time to check personal music-making off the list. This is one of the easiest instruments to learn and requires no musical background to get started. You can even become quite advanced in time without ever learning to read music!
When does the course start?
This course is unlike the live workshops that I give. You'll have access to over 2.5 hours of instruction, broken down into 40 small videos accompanied by nearly 50 printable PDFs. This means that you can go at your own pace, stopping and continuing when you need to.
How long it is?
Because you can go at your own pace and we all learn at different rates, it will vary between flute players. The Beginning Your Journey course has 40 short videos and 50 printable PDFs.
How much is it?
The Beginning Your Journey course retails at $129. Sign up now!
What is the "program flute" and do I need it to take this course?
The program flute is the Little Horse flute made by Butch Hall and is in the key of A. All the sounds and exercises that you hear me demonstrate in this course are played in this pitch. If you're looking to match the tone of what I am playing, it's not a bad idea to purchase this flute. As an instructor and recording artist, I need a flute that is well made and well-tuned. Butch's flutes are reliable and very affordable which is why I chose to use the Little Horse flute for this program.
Can you ship the flute internationally?
Yes, however, we are not responsible for any import taxes that are due when your flute is delivered.
If I am an experienced player (Intermediate) is there anything in this course for me?
Yes! Many have found their way along the flute journey piecemeal and there may be gaps in your learning that could be benefitted here.
Will there be an Intermediate or above course later, so that I may continue my growth as a flute player?
Yes! There will be an Intermediate Course available soon, so that you may continue your flute journey with direction and intent.

The very rewarding journey of making music with the Native American flute is before you. I can't wait to hear what beautiful music you create!